Laramie Movie Scope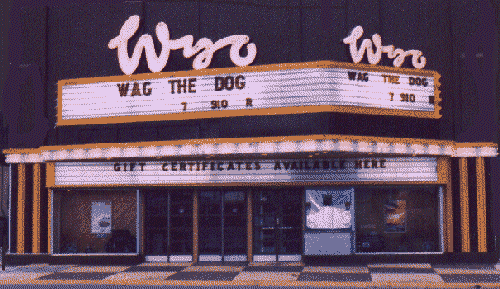 Laramie Movie Scope is an ongoing series of movie reviews, news, links and commentary, scoping out the film industry, penned by local film critics Robert Roten and Patrick Ivers. Roten is a member of the Online Film Critics Society and his reviews are also linked at rottentomatoes.com and both his and Ivers reviews are linked through the Movie Review Query Engine. LARIAT is delighted to post them as a free public service to filmgoers everywhere.
News, essays, podcasts, RSS feeds

This site is normally updated daily, click your browser's refresh or reload button to get the latest version. Click on the underlined movie titles below to read Robert Roten's reviews (links to Movie Review Query Engine reviews of selected films marked by * are also underlined).
Now Showing
Frozen
Playing at the Wyo Theatre, 309 S. Fifth St., Laramie. Shows at 7 p.m. daily, except Wednesday, Thursday and Sunday. Rated PG, running time 102 minutes. All tickets $3.50.
The Annual Spring Film series at the Wyo Theatre
Playing at the Wyo Theatre, 309 S. Fifth. Shows at 7 p.m. March 9 only. An elderly woman, played by Judi Dench, travels from England to America with a journalist to try to find her son, who was taken from her by authorities years ago. This film has won 11 awards and is nominated for four Academy Awards, including Best Picture. Rated PG-13, running time, 98 minutes. Click here for more information on the annual Spring Art and Foreign Film Series at the Wyo Theatre.
* Denotes a composite (calculated average) rating, using data found at the Movie Review Query Engine or at Metacritic.com.
Click here for links to web sites with show times, running times, and MPAA ratings for movies showing in most U.S. metropolitan areas. There are also links to movie information for theaters in Laramie and specific cities in Wyoming and Colorado.

Coming Attractions:
Reviews or previews of movies
which haven't been shown in Laramie yet

Following are links to over 2,000 archived reviews
of movies starting with the following letters:


Site Navigation:


Member, Online Film Critics Society




Commercial links

(If you are going to buy or rent anything from the following sites, please click on the links below before doing so to help support this site. It doesn't cost you any extra money for your purchases)













Robert Roten can be reached via e-mail at .

Click here to return to top of page
Click here to return to the LARIAT Home page