Laramie Movie Scope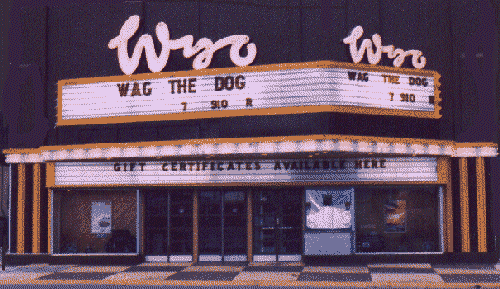 Laramie Movie Scope is an ongoing series of movie reviews, news, links and commentary, scoping out the film industry, penned by local film critics Robert Roten and Patrick Ivers. Roten is a member of the Online Film Critics Society and his reviews are also linked at rottentomatoes.com and both his and Ivers reviews are linked through the Movie Review Query Engine. LARIAT is delighted to post them as a free public service to filmgoers everywhere.
News, essays, podcasts, RSS feeds

This site is normally updated daily, click your browser's refresh or reload button to get the latest version. Click on the underlined movie titles below to read Robert Roten's reviews (links to Movie Review Query Engine reviews of selected films marked by * are also underlined).
Je Suis Charlie
Now Showing
Laramie Movie Roundup weekly 10 to 15-minute podcast (MP3 file) featuring Jerrad Anderson of KOWB radio and Robert Roten. Click here for the show
Ending this week
(Last show on Thursday, January 22)
The following movies are likely to leave town on Friday:
Starting this week
Opening on Friday, January 23, is one of the year's best films, The Imitation Game, along with the crime comedy Mortdecai, starring Johnny Depp, the animated family film, Strange Magic and the suspense drama The Boy Next Door, starring Jennifer Lopez.
Albany County Public Library's free fall film series
Playing at the Albany County Public Library, Eighth and Grand, Sunday, January 25 at 7 p.m. only, free admission, free pop and popcorn. A retiree having trouble with his first novel pays a visit to the offices of a judge. He plans use a story of a case they both worked on 25 years before, when she was his new department chief and he was the agent assigned to the case. She suggests he start at the beginning. As he works through the case in flashbacks he discovers that all men's intentions and love can be seen in their eyes. This film from Argentina won the Academy Award for best foreign language film in 2010, and numerous other national and international awards. Rated R, running time 127 minutes. Spanish with English subtitles. Sponsored by the Laramie Film Society and the Albany County Public Library. For more about the Free Fall Film Series at the Albany County Public Library, click this link for ratings, reviews, synopses and a schedule of upcoming films.
* Denotes a composite (calculated average) rating, using data found at the Movie Review Query Engine or at Metacritic.com.
Click here for links to web sites with show times, running times, and MPAA ratings for movies showing in most U.S. metropolitan areas. There are also links to movie information for theaters in Laramie and specific cities in Wyoming and Colorado.

Coming Attractions:
Reviews or previews of movies
which haven't been shown in Laramie yet

Following are links to over 4,000 archived reviews
of movies starting with the following letters:


Site Navigation:


Member, Online Film Critics Society




Commercial links

(If you are going to buy or rent anything from the following sites, please click on the links below before doing so to help support this site. It doesn't cost you any extra money for your purchases)













Robert Roten can be reached via e-mail at .

Click here to return to top of page
Click here to return to the LARIAT Home page