Laramie Movie Scope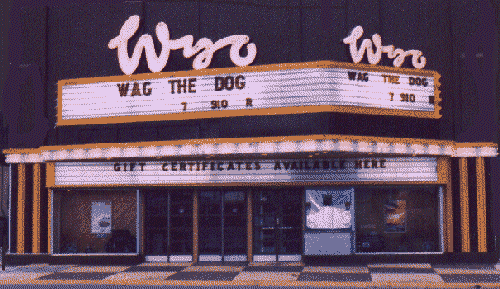 Laramie Movie Scope is an ongoing series of movie reviews, news, links and commentary, scoping out the film industry, penned by local film critics Robert Roten and Patrick Ivers. Roten is a member of the Online Film Critics Society and his reviews are also linked at rottentomatoes.com and both his and Ivers' reviews are linked through the Movie Review Query Engine. LARIAT is delighted to post them as a free public service to filmgoers everywhere.
News, essays, local and national movie listings

This site is normally updated daily, click your browser's refresh or reload button to get the latest version. Click on the underlined movie titles below to read Robert Roten's reviews (links to Movie Review Query Engine reviews of selected films marked by * are also underlined).
Now Showing
The Albany County Public Library's free summer film series
Playing at the Albany County Public Library, Eighth and Grand, Sunday, September 21 at 7 p.m. only, free admission. Ben Stiller directs and stars in this film about a man who often has daydreams in which he is a romantic hero. When his job as a photographic archivist at Time Magazine is about to be phased out, Mitty strikes out on a real globe-trotting adventure, living real life adventures like he has been dreaming about for years. This film was named one of the top 10 films of the year by the National Board of Review. The film's soundtrack also won an International Film Music Critics Award for composer Theodore Shapiro. Rated PG, runs 114 minutes. Sponsored by the Laramie Film Society, the Albany County Public Library and the Wyoming Peace, Justice and Earth Center. For more about The Not Shown Before at a Theater Near You film series (the free summer film series) at the Albany County Public Library, click this link for ratings, reviews, synopses and a schedule of upcoming films.
* Denotes a composite (calculated average) rating, using data found at the Movie Review Query Engine or at Metacritic.com.
Click here for links to web sites with show times, running times, and MPAA ratings for movies showing in most U.S. metropolitan areas. There are also links to movie information for theaters in Laramie and specific cities in Wyoming and Colorado.

Coming Attractions:
Reviews or previews of movies
which haven't been shown in Laramie yet

Following are links to over 4,000 archived reviews
of movies starting with the following letters:


Site Navigation:


Member, Online Film Critics Society




Commercial links

(If you are going to buy or rent anything from the following sites, please click on the links below before doing so to help support this site. It doesn't cost you any extra money for your purchases)













Robert Roten can be reached via e-mail at .

Click here to return to top of page
Click here to return to the LARIAT Home page