Laramie Movie Scope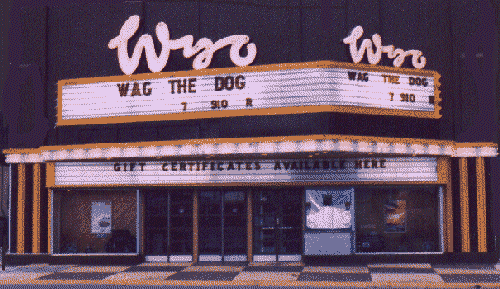 Laramie Movie Scope is an ongoing series of movie reviews, news, links and commentary, scoping out the film industry, penned by local film critics Robert Roten and Patrick Ivers. Roten is a member of the Online Film Critics Society and his reviews are also linked at rottentomatoes.com and both his and Ivers reviews are linked through the Movie Review Query Engine. LARIAT is delighted to post them as a free public service to filmgoers everywhere.
News, essays, podcasts, RSS feeds

This site is normally updated daily, click your browser's refresh or reload button to get the latest version. Click on the underlined movie titles below to read Robert Roten's reviews (links to Movie Review Query Engine reviews of selected films marked by * are also underlined).
Je Suis Charlie
Now Showing
Ending this week
(Last show on Thursday, May 21)
The following movie is likely to leave town on Friday:
Starting this week, May 21 or 22
The two most likely films to open in Laramie this week are the science fiction adventure Tomorrowland and the horror remake Poltergeist. Note: Most new releases at the Fox Theater actually open with a late show on Thursday before the standard Friday afternoon opening.
Laramie Movie Roundup weekly five minute-plus podcast (MP3 file) featuring Robert Roten. Click here for the show
Albany County Public Library's free fall film series
Playing at the Albany County Public Library, Eighth and Grand, on Sunday May 24 at 7 p.m. only, free admission, free pop, popcorn and candy. This 2010 Danish film traces the lives of two families from two different contemporary cultures: an African war zone in the Sudan and the everyday life of suburban Denmark. Among the many awards received by this film were the Oscar and the Golden Globe Awards for Best Foreign Language Film. Rated R, running time 119 minutes. Languages, Danish, Swedish, English and Arabic with subtitles. Sponsored by the Albany County Public Library and co-sponsored by the Laramie Film Society. For more about the Free Fall Film Series at the Albany County Public Library, click this link for ratings, reviews, synopses and a schedule of upcoming films.
* Denotes a composite (calculated average) rating, using data found at the Movie Review Query Engine or at Metacritic.com.
Click here for links to web sites with show times, running times, and MPAA ratings for movies showing in most U.S. metropolitan areas. There are also links to movie information for theaters in Laramie and specific cities in Wyoming and Colorado.

Coming Attractions:
Reviews or previews of movies
which haven't been shown in Laramie yet

Following are links to over 4,000 archived reviews
of movies starting with the following letters:


Site Navigation:


Member, Online Film Critics Society




Commercial links

(If you are going to buy or rent anything from the following sites, please click on the links below before doing so to help support this site. It doesn't cost you any extra money for your purchases)













Robert Roten can be reached via e-mail at .

Click here to return to top of page
Click here to return to the LARIAT Home page